Watercolor Sketched Peonies
I want to share with you a card that I made for the "Make The Card Challenge". This is a website ran by my good card maker friend, Jill Lipscomb. She asked me to be a guest designer for her new card maker challenge blog.
This post contains some affiliate links for your convenience (which means if you make a purchase after clicking a link I will earn a small commission but it won't cost you a penny more)! I only recommend products I truly love. Click here to read my full disclosure policy.
Sketch
We are asked to come up with a card design based on a specific sketch or theme. This is the sketch I pattern my card after.
Card instructions
For this card I wanted to try some water coloring. I recently picked up the Altenew Watercolor 36 Pan set. I couldn't wait to do a color swatch of all of the colors. These colors are so vibrant!
I decided to heat emboss the peonies from Maker Forte's Sketched Peonies. I heat embossed it with copper embossing powder on watercolor paper.
Then I used the Lavender Fields watercolor pan to paint my peonies. I'm not sure if peonies even come in this dark purple color, but I loved it so much I don't care!
So altough it looks like I used different shade of purple on this card, I actually didn't. I just used different amounts of water and pigment to get the different shading.
Next I decided I wanted to foil the card front useing Decofoil Transfer Gel Dou. I took a stencil from Altenew's Graffiti Scribble stencil and spread the transfer gel over the pink cardstock, removed the stencil and left it to dry overnight.
Once the gel is dry, you can just rub the foil directly on the card stock without heating it, but I wanted to really get it even and flatten out my card panel, so I ran it through the laminator.
I chose the Opal foil to give a light shine to the card. I cute this panel down 5.5 x 3.75 and adhered it to the purple card stock base.
The sentiment is this cute little outline word Hello from Maker Forte's You Matter To Me stamp set. Both the Sketched Peonies and You Matter To Me were designed by Alex Syberia. She designs beautiful floral scenes that I just adore.
Finished Project
Supplies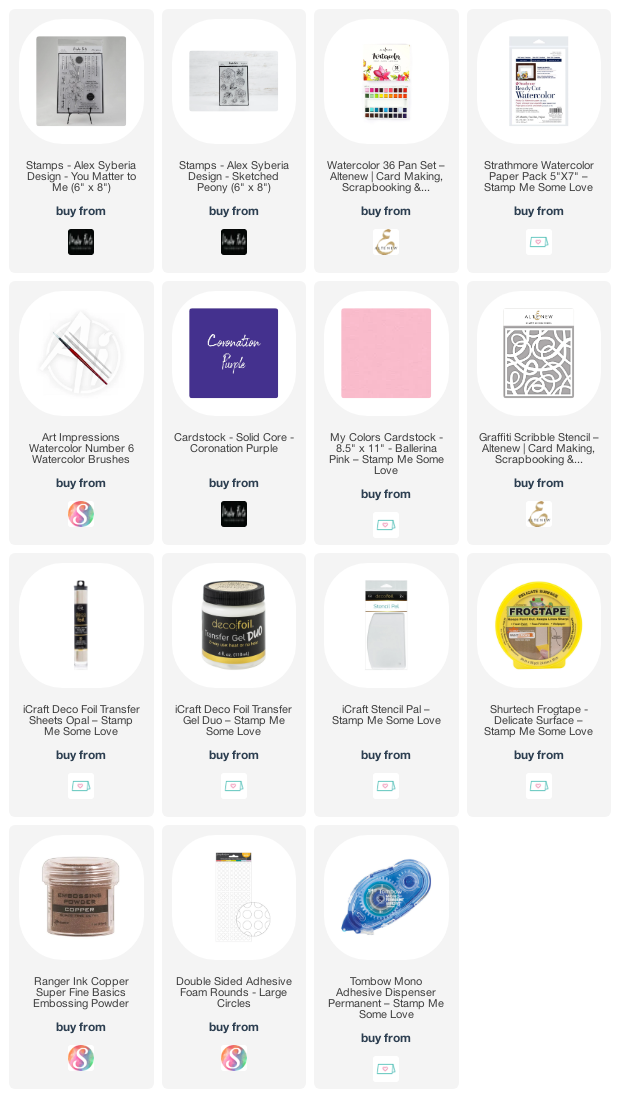 Next Live Virtual Card Class – March 13, 2021
Just opened the doors to my next Live Virtual Card class, March 13th, at 1:00 EST. We will be creating 3 Fun Foil Cards!
You can register here:
Is your craft room taking control of you? Download this 10 steps checklist to get your craft room in creative shape!