Heart & Flowers Blog Hop (Valentine Day Ideas)
Super Cute Valentine Day Ideas
I've been asked to participate in the Hearts & Flowers Video Hop.  There will be some great bloggers sharing some cute Valentine Day Ideas. Thanks for joining us!
Scroll Down to Find the Next Hop & Qualify for a Free Giveaway
We are a group of crafters who have gotten together this week to bring you some projects to inspire you for Spring crafting!  The hop starts today, Friday, February 14, 2020 and goes through Thursday, February 20, 2020.  You will have plenty of time to watch and comments on all of the posts and videos.
There will be giveaways given and they will be announced at Monica Monge-Taylor's blog here on February 25th. At the bottom on this post and in the description box of the youtube videos, you will find the next blog/video in the hop.  Please pay close attention to each video because some of the crafters are giving away their own prizes and will have their own rules for entering.
Scroll down to see the where you go for the next hop.
This post contains some affiliate links for your convenience (which means if you make a purchase after clicking a link I will earn a small commission but it won't cost you a penny more)! I only recommend products I truly love. Click here to read my full disclosure policy.
The card that I created for this blog/video hop is this repeating heart pattern card.  It's a great Valentine Day Idea for a cute card!
Quick Links in this Post
Supply List
Step By Step Instructions
I created a stencil using Oramask 813 to create the background.  You can see how I designed in Silhouette Studio and cut it on my Silhouette Cameo in my blog post here.  If you have a Cricut or a Silhouette Cameo and would like my FREE SVG, scroll down and check out how to download it.
If you don't have a cutting machine, you can always use a stencil that you purchase.  Here are some ideas for repeating heart stencils to use as a substitute
Heart Stencil Substitutions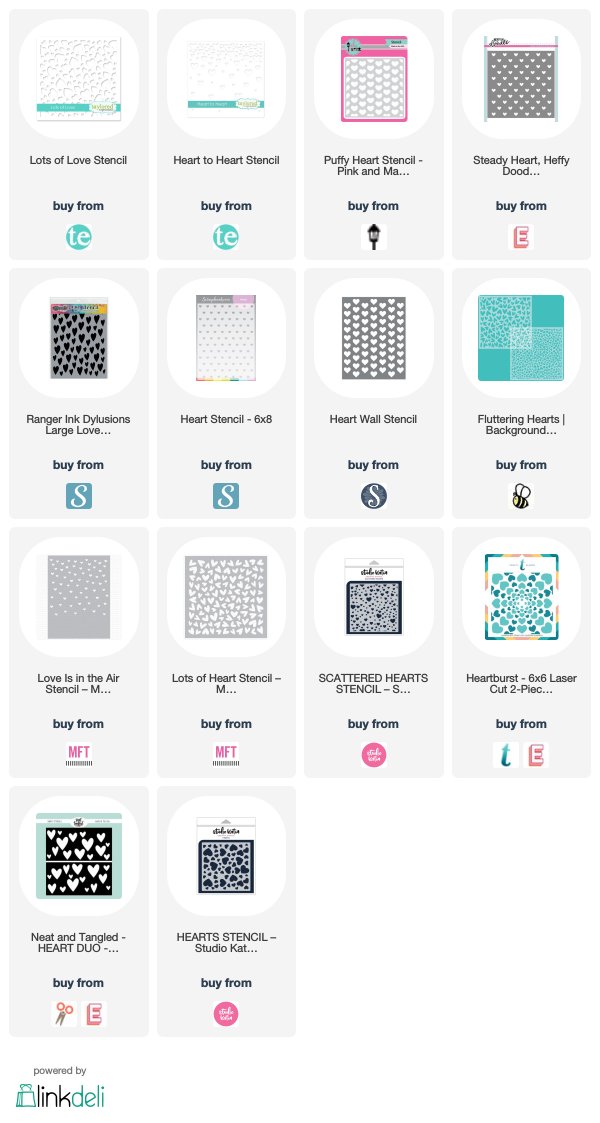 .
This blog post is going to focus on how I put the card together.
Create the Background Card Front
You can use a color card stock that is already the shade you want, but I didn't so I created this red card stock by blending Festive Berries Distressed Oxide Ink on the card until I filled it completely.
Then I prepared the card stock to apply the stencil.  Be sure to read my other blog post on how to prepare the stencil here.  To prepare the card stock, you will want to lay down some anti-static powder with an anti-static tool like this.  This helps the Oramask 813 stencil not to adhere to the paper permanently and tear your paper once you pull the stencil off.
I liked laying the stencil (with the transfer paper) down diagonally to give it some interest but you can lay it down straight on if you want.
Once the stencil is down, use your scraper tool to make sure the stencil is completely down on the paper and eliminate any bubbles near cuts that you may see.  Don't rub too hard because you don't want the stencil to get too stuck.  We want it to come back up easily.
With the stencil in place, then use your media spatula to apply some glimmer paste to your stencil.  Be generous, you can always scrap up the extra if you put down too much.
Now carefully pull up the stencil, being slow and methodical so the stencil does not break and you can reuse it again.
If you plan to use the stencil again, place it back on the backing paper and then put the transfer paper back on top to protect it. Set to the side.
You can heat set the design on your card with a heating tool like this one, or you can just put it to the side to allow to dry naturally.
PRO-TIP:  Immediately clean your work surface.  Glimmer paste drys pretty quick and can be hard to scrub off.
Die Cut the Hello Die
Now lets move on to the die cutting part.
I love dimension on my cards, especially when it comes to word die cuts.  So I recommend that you cut the word 3 times with black card stock, and then glue them all together to give it a raised look.  I suggest using Lawn Fawn Glue tube because it is a wet adhesive that allows you to move the card stock around before it dries completely.
Die cut the word halo with vellum paper.  Then use the LF glue tube to adhere the word on the halo die cut.  The word does not come out in one piece, instead it comes out in 3 pieces, so I would recommend laying the letters down first to make sure you are positioning the letters correctly before gluing them down.
Emboss the Sentiment
Next let's emboss the sentiment "I'm Yours".  This is from Scrapbook(dot)com's clear stampset called "XOXO".  I'm kind of obsessed with Scrapbook(dot)com's exclusive stampsets lately.  You can check out these two blog posts I did recently featuring Scrapbook(dot)com's "Big and Bold Christmas".  Here is one where I used Scrapbook(dot)com's "Snowflake" stencil and the other were I created a DIY glitter background with double sided adhesive.  Both blog posts feature the "Big and Bold Christmas" clear stampset.
To emboss, I am going to use my Misti tool to make sure I get a clean image.  Put your black card stock down in the Misti and place the magnets down so you can secure the card stock.  Make sure you put the foam down under the card stock since we are going to use the photopolymer stamp we will need that extra cushioned shim.
Prepare the card stock by using an anti-static tool.
Next place the stamp down and close the Misti door.  Ink up the stamp with Versamark and close the Misti door.   Remove the paper from the Misti and pour white embossing powder over the inked sentiment.  Tap off the excess and heat set it with a heating tool like this.
The die I used to cut the sentiment is the Essentials Slanted Sentiment Die-Namic from My Favorite Things.  It is currently retired but EllenHutson.com or Hallmark Scrapbook & Crafts still has some in stock as of when this post was published.
Die cut the edge of the heart card front
If you get a rough edge with the glitter, you can use your paper trimmer to trim off just a sliver to make it a straight edge. I  used My Favorite Things Stitch Scallop Basic Edge die to create some interest.
Once that is cut, then I adhered the heart card front to the black card stock which is cut 5.25″ x 4.0″.  I used the Lawn Fawn Glue tube because it allows me to position the card stock evenly before it dries completely.
Give the Card Dimension
I used Scrapbook(dot)com's double sided adhesive squares, both the small and the large to bump up the "I'm Yours" Sentiment, as well as the "Hello" die cut.  For the "Hello", I cut the small squares in half to hide behind the die cut so you could not see it through the vellum.
Finish off with Bling
I love adding embellishments to my cards.  I think it gives a nice finished look to them.  In this case I used the Bokeh Lights Confetti mix from Honey Bee Stamps.  Check out the video I made, showing off my Black Friday craft haul.  I picked up this confetti mix as well as a ton more that are just as cute.
Watch Video
You may watch the video here, but in order to qualify for the giveaway, you need to view and comment on the video on YouTube.
Follow this link to watch the video on youtube and leave a comment.  Then hop on to the next blogger's video.  Link to the next person will be in the description.
Final Project
The card that I made in this post is one that I created for my latest card swap.  I have a group called "Card Maker's – Card Swap".  There is a monthly theme and all are invited to participate.  Check out our facebook group for more information.
Hope you enjoyed this card and got some inspiration for your Valentine Day ideas!
Get My Free SVG Heart Stencil File to Make Your Own Card
Want to get access to my FREE Resource Library where I store all of my tutorial, patterns and SVGs. I share the supplies I use and the dimensions needed to make the projects. You will also get access to my newsletter where I share tips and tricks as well as the latest craft sale I have found. Fill out the details below and get started today!
Full disclosure:  When I sent to export this project into an SVG file, it would not allow me to fully export it because the heart design was a design I had purchased in the Silhouette Design Store and it was restricted.  So I purchased this heart design in DesignBundles.net and recreated the same pattern for you.
Blog Hop Stops
Thanks for visiting my video blop hop stop.  Be sure to visit each stop to place a comment and enter to win a giveaway! Be sure to watch each video carefully as some of the bloggers will have their own giveaways in addition to the giveaways that will be announced on Monica's blog on February 25th.  Be sure to follow all of the rules! Good luck!
Here is the next stop in this hop!  Be sure to watch my video on youtube and leave a comment ON YOUTUBE to be considered in the giveaway.  Then head over to Karen's video.  You can also find a link to her stop on the youtube description.
Want to save this Tutorial for later? Save one of these pins to your favorite Pinterest Board!