Love is Love with Reverse Confetti
A few weeks ago I was asked by Reverse Confetti to create a few cards using their new release.  A few of the new products are centered around "Love is Love" and a month before Pride month.
And of course since the LGBT is at the core of my own community this was perfect for me so I said 'YES YES YES".
Reverse Confetti will be making a donation to HRC and the Trevor Project as a result of this blog hop.
This blog will be one of many for this release.  Don't forget to scroll down to see who the next blog stop!
This post contains some affiliate links for your convenience (which means if you make a purchase after clicking a link I will earn a small commission but it won't cost you a penny more)! I only recommend products I truly love. Click here to read my full disclosure policy.
Win This 3 Piece Card Set
I am auctioning off this 3 piece card set to the highest bidder and will donate the proceeds to HRC.
To place your bid, fill out the form below and enter your bid amount.
The minimum bid is $10 and bidders must bid in increments of $1.00.
The auction will close at 5:00pm EDT on May 20, 2022.
Winner will be notified via email and will have 72 hours to reply back with their contact info so an invoice can be sent to be paid.  Winner will also be responsible for shipping, which should be nominal depending on where the winner is located.
Love is Love 3 Piece Card Set
These are handcrafted cards made by Brandi Mahon, the Creative Owner of Stamp Me Some Love, LLC.  The cards are made out of 110lb cardstock and feature images and die cuts from ReverseConfetti.com
Winning bid will be responsible for shipping costs.
Proceeds from the auction will be dontated to the Human Rights Campaign
Any questions should be directed to our support email address.
Going for $21.00
Ending Date - 21st May 2022 01:00:00
Shipping - $10.00
Ships to - United States

Location

- Kentucky
Current bids
Flora Crow bid $21.00 on 2022-05-11 09:17:26
Suzanne Borrhello bid $20.00 on 2022-05-10 18:16:53 [auto]
Robin bid $20.00 on 2022-05-10 18:16:53
Suzanne Borrhello bid $16.00 on 2022-05-09 13:59:25
Danika Matters bid $15.00 on 2022-05-09 09:29:38 [auto]
Susan Sheehy bid $15.00 on 2022-05-09 09:29:38
Danika Matters bid $12.00 on 2022-05-09 07:51:19
Kevin bid $11.00 on 2022-05-08 22:20:49
Brandi Test bid $10.00 on 2022-05-07 17:35:46
Payment Details
Payment must be made using the following method
| | |
| --- | --- |
| PayPal | Auction winner will get a PayPal payment link via email. |
Card Details
So this card is a pretty simple card with a very cool techinque.  I tried using my gelpress plate. I've never used a gelpress before, so this was a bit of an experiment for me.
---
Sidenote, the magnetic glass mats are the bomb! I love them because no only are they easy to clean up, but they don't reflect light as much since it is white. It's great with videoing.
Interested in getting your hands on one? Us my promocode BRANDI20 to get 20% off your order! Here is the link to the exact model I bought.
---
How I created the card
The first thing I did was create the backgrounds.  I used rainbow acrylic paint that I had laying around.  Unfortunately the only kind I had was the type that is used for pouring, so I think it might have turned out a little different just using straight up acrylic paint because it would not have been so runny.
But essentially, I put the rainbow paint down in dabs across the plate in this order:
Red
Orange
Yellow
Green
Blue
Purple
Ever wonder why the rainbow is the symbol for LGBT people? Check out this wikipedia article here. There are different versions of the LGBT rainbow symbol with the inclusions of a diverse group of people who consider themselves LGBT.
After the dabs of paint was placed on the gel plate, I used my brayer to smooth out the colors in lines across the plate.  I tried to keep my brayer motion side to side so as to not mix up the colors too much. Aways braying the excess onto a another sheet of paper so I did not cross contaminate the colors when I went to bray the next layer.
Then I placed a piece of Distressed Heavyweight Cardstock down on the plate and used my brayer to smooth the paper onto the gel plate.
I carefully peeled the paper back to reveal the print.  Oh my! it was so pretty.  I wish I had taken pictures of that process to show you!
I had to leave it to dry over night.  Especially since I used the pouring acrylic paint instead of acrylic paint because it was more wet than normal.
The paper was pretty warped so I tried, unsuccessfully, to run it through the laminator to smooth it out.  Yeah don't do that.  Luckily I had put the cardstock in a transfer sleeve so it did not gunk up my laminator.
Fortunately I had several backgrounds made so I had backup!
The first background I finished was the background with the repeating "love" down the side.
I used my Misti to help with this and inked the stamp with Catherine Pooler's Midnight ink.  But acrylic made it difficult for the ink to dry, so I used a heat tool on it and ultimately decided not to risk it so I put it to the side to dry for a few more hours.
Then I moved onto the the other backgrounds.
So for this next one I used the Large Circle of Hearts Confetti Cuts.  I used one of the backgrounds and cut out the die cut.
It comes with a circle die cut that fits perfectly in the center so I die cut a circle from My Colors Black Suede cardstock, and then heat embossed the words "Love is Love" with white opaque WoW embossing powder.
I used the same heart die cut and cut another one out of Black Suede cardstock and then used the small heart shape die cut and cut out lots of hears from the rainbow back ground I made.
I also die cut the word Love out of some extra backgrounds and used a Ohuhu fine line drawing pen to color in the lines for the E.
I glued those down directly to the die cut, and embossed the word "is", cut it out and popped it up with my favorite double sided foam adhesive dots from Scrapbook.com.
I love how these cards came out. What do you think?
Supplies I used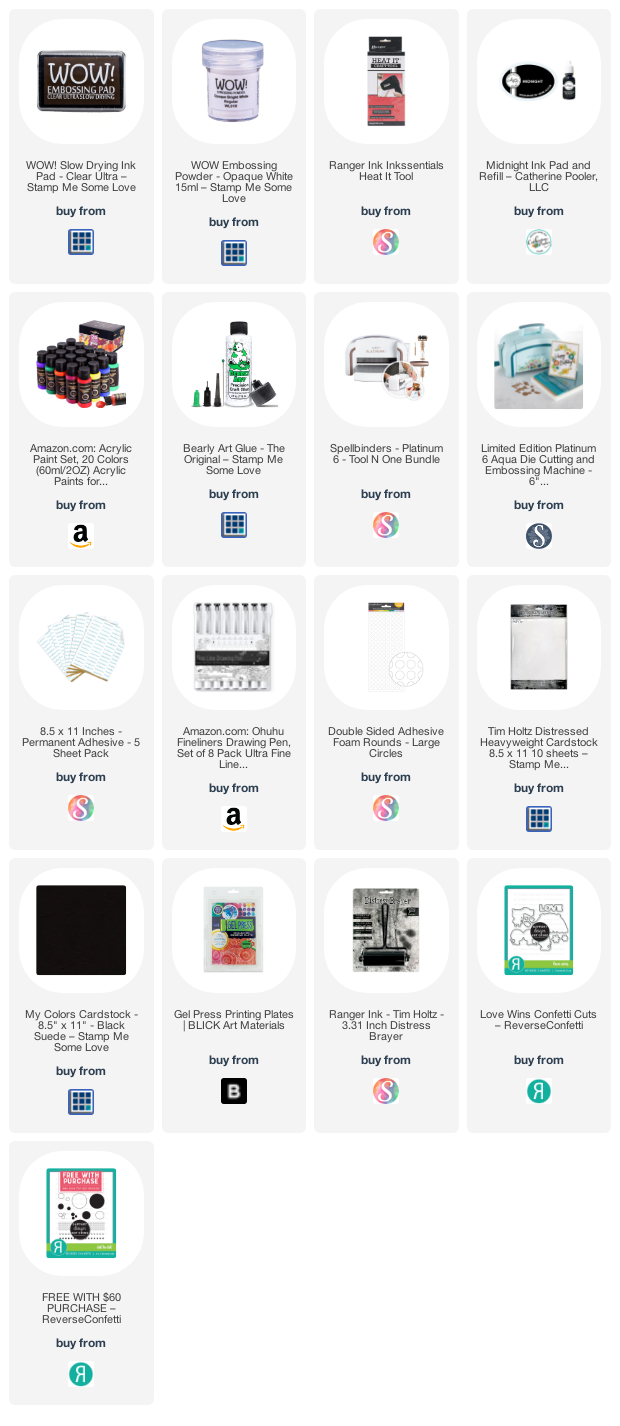 Let's see the other card I made for Reverse Confetti when they sponsored the Card Maker Success Summit this past February.
Jen from Reverse Confetti sent me some adorable stamps and confetti cuts and I created these 2 cards shown below.  Check out the details to that card project here on my youtube channel.
Let's talk about the Card Maker Success Summit
A few years back, I started creating handcrafted cards.  I thought, won't this be nice… I'll send all of my friends and family handmade cards for holidays.  And so I did.
The feedback I got back was awesome.  Everyone wanted one of those special cards I created.
The following year came, and I waited until the last minute to make those cards..  I had to make over 100 cards over the course of a year.  It was unbelievably stressful.  I did not want to let anyone down.
I also was missing out on some of the festivities with my own family because I was so worried about getting these Christmas cards done.
This was not fun.
I vowed the following year that I would do better. So I did.
I created a plan in January on how I was going to tackle this huge project and spread my plan over several months so I wasn't so stressed.
I figured out what cards I wanted to make, looking for inspiration from my favorite card maker influencers.  Figured out what supplies I needed and what I needed to purchase.
Then I decided how many cards I needed to make and made a plan when I was going to work on them.
What I realized was that it helped me be accountable to myself and my project and it helped me save money.  I was forced to decide on the designs ahead of time so I had time to go through my stash and see what I had already… and what was needed to buy.  Thus I didn't buy what I didn't need.
So in the end, I was able to create over 100+ cards over  6 months and saved a ton of time and money.  I was able to be creative without the stress.  And I looked forward to spending that quality in my craftroom, knowing I was creating something beautiful and cherished from my friends and family.
I want this for you.
That's why I'm so excited to bring this free 4-day event to you!
The Card Maker Success Summit
We are planning our next summit in July!  Join our VIP waitlist now!
Are you excited?! (I sure am!)
Head over to the website to learn more and join the VIP waitlist. More information will be sent straight to your inbox afterwards.
Who is Next on the Blog Hop?
Brandi Mahon <<<—- You are here!