How to Add Foil to Your Card with a Laser Printer
How to add foil to your card with a laser printer
Today's project is using a foiling technique that I just love.  Adding foil to your card with your laser printer and a laminator.  The sentiment you see "Thinking of You" is my design and at the end of this post you will find a link to download it FREE to use for personal use.
The card was created for our latest card swap, which was a "Thinking of You/ Pastel Color" theme.  You can join that group by hoping over to facebook and click join.  The group is called Card Maker's Card Swap and we have some really talented card makers there that participate month after month and I would love to see you there!

This post contains some affiliate links for your convenience (which means if you make a purchase after clicking a link I will earn a small commission but it won't cost you a penny more)! I only recommend products I truly love. Click here to read my full disclosure policy.
Quick Links in this Post
Supply List

Step By Step Instructions
Today's card project is using a foiling technique with toner.  I created this "Thinking of You" sentiment and you can download it at the end of this post for free for personal use.  It's just a PDF that you will need to print in your laser printer to lay down the sentiment in toner. If you do not have a laser printer, you can always take it to a office supply store and have them print it out for you.
Turn your laminator on now before you do the following.  You will want your laminator to be nice and hot by the time you get ready to foil your image.  The laminator that I have takes around 20 minutes to get to optimum heat.  Yours may differ so just test it out.
Printing the Sentiment
First you will need to print the sentiment on cardstock.  I recommend Neenah Solar White 80lb.  I tried printing the 110lb in my laser printer and it was too thick for the machine to handle, so I used the 80lb version.  Neenah Solar White is the perfect paper for ink blending which is what we will be doing today.
Here are some places for you to pick up the Neenah Solar White paper.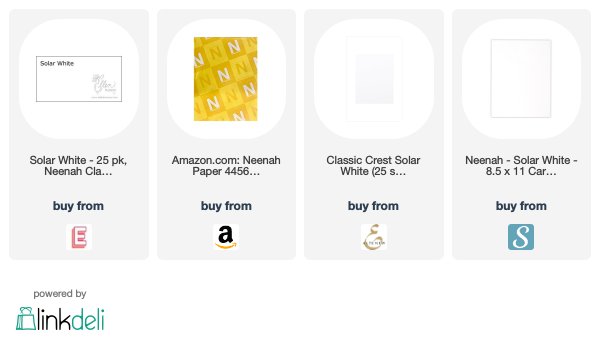 Download the Free PDF (scroll down for that link) and open the file.  When you hit print, make sure that you are choosing the option to print ACTUAL SIZE and not print to fit.  This will keep the sentiment in the position you will want it when you go to cut it down.
Cutting the cardstock
I have positioned the sentiment on the pdf so that it is very simple for you to cut the cardstock.  You will cut at the 5.5″ on the long side of the cardstock and then at 4.25″ on the short side.  I recommend a rotary trimmer like the Carl because of its accuracy in cutting straight lines but you can use whatever paper trimmer works for you.
Preparing the stencil
I use Pixie Spray to lay a light adhesive down on the stencil so it will not move when I place it on the card stock.  I like to keep the stencil clean on the side that I ink on so I put a small black mark with a sharpie pen on the side that I always spray my adhesive on.
Lay the stencil down on to your card.  I sometimes like to put the stencil down at an angle to give the card some interest.
The stencil I am using is the Honeycomb Stencil from Scrapbook.com but you could use any stencil that you want.  Here are some ideas for other stencils you might like: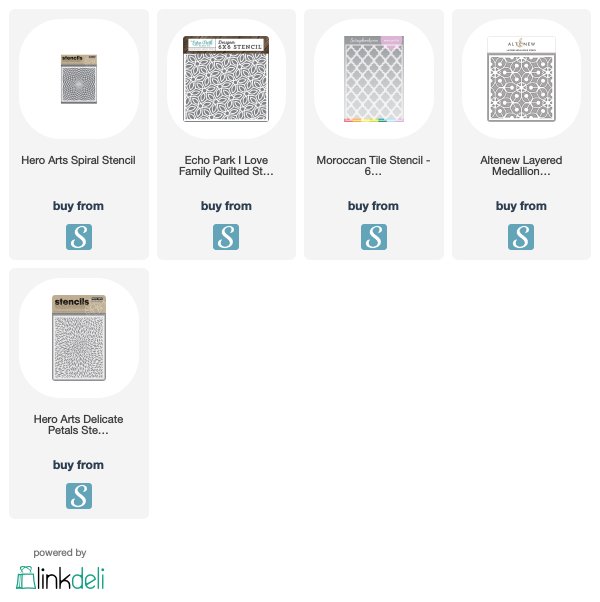 Inking up the cardfront
When ink blending, you will need a smooth surface to blend such as this glass media mat that I am using.  You also use a craft mat like this or even some wax paper.
I will ink my blending brush and then apply some down on the media mat first before going on to the paper.  This helps me from laying too much ink down on the paper at first. Then I will blend the ink with the brush in circles, first on the mat and then gradually move on to the paper. I used Distressed Oxide Spun Sugar for the pink ink.  And these makup up brushes from Amazon to blend the ink.
You want to be careful not to put ink on the sentiment because that will cause the foil NOT to adhere to the toner.
I like blending it heavier around the outside and the edges of the paper and lighten up as I get closer to the sentiment.  That will create a bit of a vignette effect around the sentiment and make it a focal point of the card.
Once you have blended the ink all around the sentiment, remove the stencil.
Die cutting the edge
I would recommend die cutting first before foiling because if you foil first and then run the card through the die cutting machine, you may find your foil doesn't look as nice.  Lines in your cutting plates may lay down on the foil.
I used the My Favorite Things Stitched Scallop Basic Edges Die-namic to create an interesting edge to the card front.  Lay it down and use some purple tape on the die so it doesn't move around.
Next line up your colored cardstock underneath the card front you just die cut.  You will want to try to get the die spaced evenly to align with the card front, but if it is not perfect, don't worry.  We will fix that later.
Foiling the sentiment
Next you will want cut a small piece of foil that will cover the entire sentiment.  Place the cardstock and the foil in a folded carrier sheet.  I use a piece of copy paper.  Send it through the craft mat like this.
Pro-tip:  Make sure you place the folded side in first into the laminator.  Otherwise you might get the paper stuck in the laminator.  <— Ask me how I know!
It's very hard to photograph the foil on this card, but trust me it looks stunning.  Scroll down to the final project images and you will catch a few images that caught the light just so.
I absolutely love using this technique to add foil to a card using a laser printer and laminator!
Putting it all together
Adhere the sentiment to the color cardstock and trim
Once you have the card foiled, now its time to put all of the pieces together.  The first thing we need to tackle is getting the card front with the sentiment lined up with the colored cardstock we are going to put under it.  If you were lucky to get it to line up exactly, then you can skip this step but if you are like me, then you will have to do some further steps.
So first lets glue the sentiment card front to the color cardstock.  I use the Lawn Fawn glue because it is liquid and it allows you to move the cardstock around while you are positioning it before it dries.  Make sure the edges where you die cut are evenly spaced.
Next let's cut a straight edge at the top of this 2 card layer  sandwich.  Use the top layer (the white cardstock) as your guide and cut through both pieces to make a nice straight edge.  I used my Tim Holtz paper trimmer here because this is a small piece and it is easier to cut.
One you have the straight edge, now you can trim the sides.  We want this to ultimately end up being 4.0″ inches wide so you can trim on both sides if you want.  Just be sure to watch where your sentiment is and make sure you don't cut that.
I had a little bit of foil in an area of the card that it was not supposed to be.  So I used my Tombow Mono sand eraser to get off those bits.
Build up the card front
Now we will glue the small piece of patterned paper to the base sheet of cardstock for the card front.  The patterned paper I used in this project is from AdornIt.com. It's called Camper Adventures.
Glue the patterned paper down to the bottom of the white cardstock.  The dimensions of this card front base should be 5.25″x4.0″.  I use Lawn Fawn glue for this part.
Next glue the layered cardfront to the base.  For this I used a strong tape adhesive, Tombow Xtreme Glue Runner.  I use this because the card front is heavy with two heavy card stock panels and I don't want it moving around.
Stampin' Up! used to sell this as Fast Fuse, but they discontinued it.  I was so excited to hear that it was a Tombow product.  I still use the dispenser from SU but I by my refills from Amazon.
Adding it to the folded card base
Next is the easy part.  Just glue it down to your folded card base.  I use the Xtreme Glue Runner for this as well.
Blinging up the card
The last part of this card project is to add some bling.  I love to add confetti to my cards, and especially cards that I have foiled.  I used the Honey Bee Stamps Aurora Lights Confetti mix.  I love the way they change colors as you move the card, just like the foil on the card.
I like to place the bling on the card first so I can position where I want it.  Then I use my jewel picker to pick up the sequin and place a small dot of glue down, then place the sequin perfectly in place!
It adds alot of interest to the card and I just love how it looks.
Watch Video
Final Project
The card that I made in this post is one that I created for my latest card swap.  I have a group called "Card Maker's – Card Swap".  There is a monthly theme and all are invited to participate.  Check out our facebook group for more information.
Hope you enjoyed this card and got some inspiration for your next card using foil!
Get My Free Thinking of You PDF to Make Your Own Card
Want to get access to my FREE Resource Library where I store all of my tutorial, patterns and SVGs. I share the supplies I use and the dimensions needed to make the projects. You will also get access to my newsletter where I share tips and tricks as well as the latest craft sale I have found. Fill out the details below and get started today!
Want to save this Tutorial for later? Save one of these pins to your favorite Pinterest Board!