Custom Canvas Vinyl Wall Art from Your Photo
I use my silhouette cameo mainly for my card projects but sometimes I venture out and do something different. Recently I have become obsessed with converting photographs of my fur babies into SVG cut files and then creating custom wall art. This unique art is great for your home decor as well as gifts for others.
This post contains some affiliate links for your convenience (which means if you make a purchase after clicking a link I will earn a small commission but it won't cost you a penny more)! I only recommend products I truly love. Click here to read my full disclosure policy.
Supply List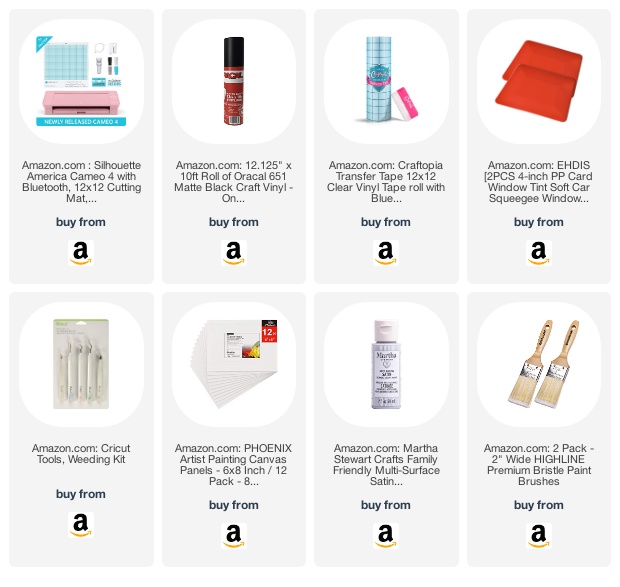 Step by Step Instruction
I took the photo and turned it into a SVG file and uploaded to Silhouette Studio. I have the Business version of SS but you can also use the Design version. You can not upload SVG or DXF files with the free version of SS.
Step 1
Before I uploaded the SVG file, I did some cleaning up of the photo in Adobe Photoshop to increase the exposure to bring out some highlights in the dogs fur. Since she is all black, I need to add some contrast to make the cut image more interesting.
Step 2
Next I removed the background by uploading the image to Remove.bg . This program is a super easy way to remove any background you do not want and it is free.
Step 3
Once I got the image the way I liked it, I uploaded it to a free program called CuteCutter.com. The program allowed me to create the svg file. I could also do this in Adobe Illustrator, but I find CuteCutter to be much more user friendly.
Step 4
Once I have the svg file looking good, then I download it to my computer. I find that DXF file types work best in my Silhouette Studio software, so I will then upload the svg file to Adobe Illustrator and export as a DXF file.
Step 5
Next I uploaded it to my SS library and cut the file. Here are the settings I used for the Oracle 651 Vinyl that I used.
Blade: 1
Speed: 5
Force: 8
Pass: 1
Step 6
Once the design is cut, then I get to spend time weeding the design out. This is probably the hardest and most time consuming part of the project as there are alot of little pieces that need to come out.
My eyes are getting so bad that I use this awesome standing magnifying light to help me see all of the small pieces!
Step 7
Next is to apply a transfer sheet to the weeded design. Rubbing it in with my scraper tool to make sure the design will lift onto the transfer paper instead of remaining on the backing paper.
Step 8
Then I painted the canvas panel a light gray color. Vinyl sticks better to canvas when it has a coating on it.
Step 9
Once the canvas is dry, I positioned the transfer paper with the design onto the canvas. Again rubbing the design onto the canvas panel with my scraper tool.
Step 10
Then I carefully pull back the transfer paper to reveal the beautiful wall art!
Beautiful Custom Made Personalized Canvas Vinyl Wall Art
Don't have a Silhouette Cameo or a Cricut? But you still want one of these customized unique work art? Well do I have a deal for you! Friends and family have started asking for me to create custom wall art for them, and I was surprised by the response. It seems that having a personalized work of art of your loved ones, whether the two or four legged kind, is really popular now.
I love creating this art so much that I decided to sell to the public in general. If you are interested in a getting your loved one memorialized in this unique wall art, go to this form and fill out the necessary information. I will send you an invoice and get started right away!
Let me create a unique piece of art for you.
All I need is your favorite digital image. It can be of your furry friend or a 2 legged loved one. The best photos for this type of wall art is one that has a lot of contrast. Here is some examples of photos with a lot of contrast.
The photo does not have to be high resolution. If you are unsure if your photo will be a great photo to work with, just email me your photo here and I will get back to you asap.
The wall art is black matte vinyl on a painted canvas panel. The panel can be framed or hung on the wall. Hardware is not included in this wall art.
Details
Here are the prices for the different sizes.
8″x 6″ – $27
9″ x 12″ – $30
12″ x 12″ – $35
You get a choice of background colors.
Pricing does not include shipping, and product may be picked up locally in Versailles, KY.
Once the design is completed, you will get final approval of the proof before the artwork is created. Proofs must be approved within 48 hours of being sent. You are allowed 3 revisions.
If interested, fill out the form at https://stampmesomelove.wufoo.com/forms/z19mfhx30mcwwi9/
And I will get back to you with an invoice to pay from.
Once payment is made, the proof will be available within 48 business hours and the final product will be completed within 72 business hours after the proof has been approved by the customer.
Want to get together and make cards?
Join me at my next Online Virtual Card Making Class. My next class is Sept 19, 2020 at 1:00pm EST. For this class we are going to be making beautiful alcohol ink backgrounds for Christmas cards.

What's included?
List of supplies and where to purchase them
Cut dimensions to get the exact card demonstrated in the virtual class
Opportunity to join on a LIVE Zoom call, as the instructor demonstrates techniques of how to create the card.
Ability to ask questions live during the virtual class.
Recorded replays to watch the virtual class at your convenience
Access to a private FB group where you can ask questions of the instructor or other members
Opportunity to join the affiliate program where you can get paid for referrals
I am giving away a special promo code to my readers and subscribers. Go to my facebook business page at https://www.facebook.com/stampmesomelove and send me a DM. Tell me you want the special promo code, and I'll get that sent to you. Be sure to do it before Sunday, August 9,2020.
Ready to start learning now?
The Stamp Me Some Love Academy is now open with pre-recorded classes you take right now! Check out our class line up here.
Want FREE Stuff?
Want to get access to my FREE Resource Library where I store all of my tutorials? I share the supplies I use and the dimensions needed to make the projects. You will also get access to my newsletter where I share tips and tricks as well as the latest craft sale I have found. Fill out the details below and get started today!
Like Crafty Sales?
Check out my crafty deals & steals page to get the latest sales on stamps, ink, paper and tools!
---
Want to save this Deal for later? Save one of these pins to your favorite Pinterest Board!